Fun with ice: Festivals, fishing and more
updated 10:08 AM EST, Sat January 14, 2012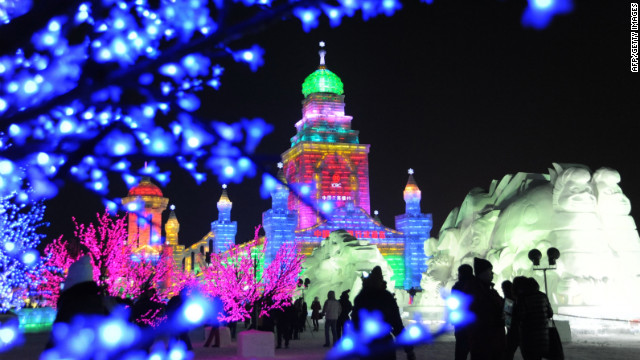 Ice isn't much fun on the road, but add new shapes and bright lights to the ethereal frozen stuff and you have a festival on your hands. Each year the northeastern China city of Harbin hosts an Ice and Snow Festival featuring jaw-dropping frozen creations.
Visitors tour ice creations in Harbin, China, on January 6.
A woman works on a sculpture January 10 to be displayed at a snow festival in Moroz (Frost) City in Moscow.
A sculptor works on a block of ice during the London Ice Sculpting Festival in Canary Wharf, east London, on January 13.
Ice sculptures based on Disney characters are on display at the Snow and Ice Sculpture Festival in Bruges, Belgium.
Ice art isn't the only cold-weather attraction. Each winter fisherman gather for an annual winter fishing festival in Changchun, northeast China.
In South Korea, anglers cast lines through holes into a frozen river during an ice fishing competition at the Hwacheon Sancheoneo Ice Festival.
In the Hwacheon region, anglers are after a mountain trout called "sancheoneo."
The Netherlands city of Zwolle is host to an ice sculptors festival. This year the first Dutch ice hotel opened at the festival.
Temperatures in the ice hotel's rooms hover around 8 degrees Celsius (46 degrees Fahrenheit).
Harbin, China
Harbin, China
Moscow, Russia
London, England
Bruges, Belgium
Changchun, China
Hwacheon, South Korea
Hwacheon, South Korea
Zwolle, Netherlands
Zwolle, Netherlands