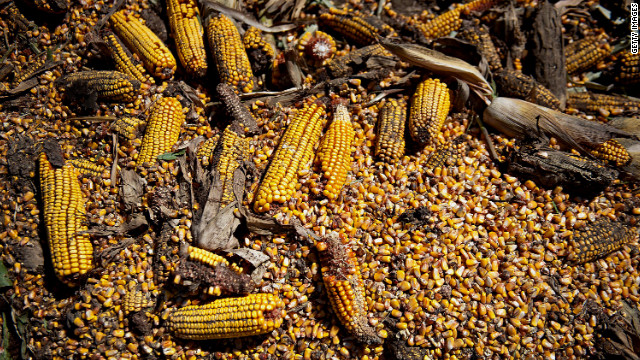 The drought had a negative impact on corn in Le Roy, Illinois. Drought occurred in six Plains states between last May and August because moist Gulf of Mexico air "failed to stream northward in late spring," and summer storms were few and stingy with rainfall, said a report by the National Oceanic and Atmospheric Administration.
A calf strains for mother's milk as they forage amid dry wheat husks on the Becker farm August 24 in Logan, Kansas.
Farmer Darren Becker sifts through arid topsoil under a ruined crop on the family farm on August 24 in Logan, Kansas.
Rancher Gary Wollert pauses before heading out for work on August 23 near Eads, Colorado. The nation's severe drought has been especially hard on cattlemen. Much of eastern Colorado and virtually all of Nebraska and Kansas are still in extreme or exceptional drought, according to the University of Nebraska's Drought Monitor.
A billboard, "Jesus in the Wheat," stands alongside Interstate 70 on August 24 in Colby, Kansas. The billboard was erected by local residents Tuffy and Linda Taylor. "We just put it up there to minister," Linda Taylor told the Hays Daily News.
A boat dock is left high and dry at the Morse Reservoir in Noblesville, Indiana, on August 16, where water depths are significantly lower than average because of a widespread drought.
Fish remains bake in the heat in an area that is usually underwater at the Morse Reservoir in Indiana.
President Obama inspects a drought-stricken area of Missouri Valley, Iowa, with corn farmer Roger McIntosh on August 13 as he campaigns in the area. Since mid-June, corn prices have risen about 60% because of declining crop yields.
Heat and drought have destroyed corn yields.
A car kicks up dust as it drives by corn fields on dry dirt road in State Center, Iowa.
Jeremy Tilton adds hay to a feed mixer for cattle he raises on pastureland near Cuba, Illinois.
A tractor cuts down corn in a field designated as zero-yield on a farm in Vigo County, Indiana, on Tuesday, July 31. The U.S. Department of Agriculture has declared more than half the counties in the country natural disaster areas as drought sears millions of acres of pasture and cropland.
A field of dead corn sits next to the Lincolnland Agri-Energy ethanol plant in Palestine, Illinois, on Wednesday, July 25.
An employee stocks dairy products at a supermarket in New York on Wednesday, July 25. The U.S. Department of Agriculture said prices of dairy products like cheese, milk and eggs are expected to rise 2% to 3% because of the drought.
Corn stalks struggle to survive in a drought-stricken farm field on Thursday, July 19, near Oakton, Indiana. The corn and soybean belt in the middle of the nation is experiencing one of the worst droughts in more than five decades.
A field of corn shows the effects of the drought on a farm near Fritchton, Indiana, on Wednesday, July 17.
Farmer Ed Schoenberg and his son harvest oats early in attempt to salvage their drought damaged crop near Burlington, Wisconsin, on July 17.
Corn is watered with an irrigation system near Fritchton, Indiana, on July 17.
A single stalk of corn grows in a drought-stricken field near Shawneetown, Illinois, on July 16.
Brown and dry, a field of corn sturggles to survive drought conditions near Uniontown, Kentucky, on July 16.
Illinois Gov. Pat Quinn examines a drought-damaged ear of corn near Waltonville, Illinois, on July 16.
A weed grows thorugh the dried and cracked earth where a pond used to br near Ashley, Illinois, on July 16.
Farmer Marion Kujawa looks over a dried-up pond where his cattle used to water, near Ashley, Illinois, on July 16. Kujawa is digging the pond deeper so that the water will last longer in the future.
Farmer Albert Walsh walks through his drought-damaged corn field in Carmi, Illnois, on July 11.
The drought plaguing the Midwest has taken a harsh toll on America's corn crops, such as this one in Grayville, Illinois.
Swimmers relax in the shallow waters of the Mississippi River at Meeman-Shelby Forest State Park in Tennessee on July 6. Drought conditions have lowered the river's levels considerably from this time last year.
Fish skeletons line the bottom of a drainage ditch in Skelton, Indiana, on July 12.
Soybean seedlings push their way through dry soil in Skelton, Indiana, on July 12.
Cattle graze in a field on July 13 near Paris, Missouri. Many ranchers are rushing to sell off their herds as hay supplies dwindle and feed prices soar.
Cracked, dry ground marks the area where a pond normally stands in Crossville, Illinois, on July 11.
Brown corn stalks stand in a drought-stricken field on July 11 in Carmi, Illinois.
Extreme heat, drought ravage Midwest
Extreme heat, drought ravage Midwest
Extreme heat, drought ravage Midwest
Extreme heat, drought ravage Midwest
Extreme heat, drought ravage Midwest
Extreme heat, drought ravage Midwest
Extreme heat, drought ravage Midwest
Extreme heat, drought ravage Midwest
Extreme heat, drought ravage Midwest
Extreme heat, drought ravage Midwest
Extreme heat, drought ravage Midwest
Extreme heat, drought ravage Midwest
Extreme heat, drought ravage Midwest
Extreme heat, drought ravage Midwest
Extreme heat, drought ravage Midwest
Extreme heat, drought ravage Midwest
Extreme heat, drought ravage Midwest
Extreme heat, drought ravage Midwest
Extreme heat, drought ravage Midwest
Extreme heat, drought ravage Midwest
Extreme heat, drought ravage Midwest
Extreme heat, drought ravage Midwest
Extreme heat, drought ravage Midwest
Extreme heat, drought ravage Midwest
Extreme heat, drought ravage Midwest
Extreme heat, drought ravage Midwest
Extreme heat, drought ravage Midwest
Extreme heat, drought ravage Midwest
Extreme heat, drought ravage Midwest
Extreme heat, drought ravage Midwest
Extreme heat, drought ravage Midwest